My trip to Leuven was brief and impromptu. Although I barely slept, I can without a doubt say that I would move there in a heartbeat.
Belgium is well known for its standard and marvelous nature, among other things. While Leuven is small, University City, it has a fantastic atmosphere and magnificent scenery. The city is 600 years old, so the architecture is just breathtaking. After a quick bite and coffee at Café Commerce, it was time to do some exploring.
The Ladeuzeplein is the main square, and you will enjoy the bookshops, music stores, but most of all, you are going to stare at the Totem and that giant bug, because it is just mesmerizing; an amazing piece of modern art among ancient buildings. Jan Fabre made the Totem statue for the 575th anniversary of Leuven. It is also located near the M-museum and the university main library. The museum has an excellent art collection, especially from Flemish masters, Jan Rombouts I and Josse van der Baren. The square is packed with cafes and bars, full of young people not just from the university, but tourists as well.
The joyful city is full of surprises, so you can get calligraphy lessons right on the street or have a taste of the best chocolate mousse ever in "Café Leffe." If you want to enjoy some peace and quiet, parks are everywhere, and no one's going to bother you. When you get enough of nature, hit the shopping streets, there are only two of them, both near the Sint-Pieterskerk church, another masterpiece from the XVI century.
Gothic style church is on the same main square, so if you come from a big city, you can see pretty much all the attractions by foot or bicycle. Despite it, you can get great food from any corner of the world, as well any beverage you can think of. The downside is that there even though it wasn't that cold in June, it was rainy, and the shops are closed after 6 pm. Not that it makes a significant difference; it is just that when you come from any city that never sleeps, you are going to need something at 10 pm.
Supposedly, Christmas in Leuven is a must see. There is a holiday market, every building is tastefully decorated, and the city is even more exciting and lively than during summer. However, the atmosphere during a casual working day was mesmerizing and if you have a chance to spend at least one semester or take a trip to Belgium, choose Leuven.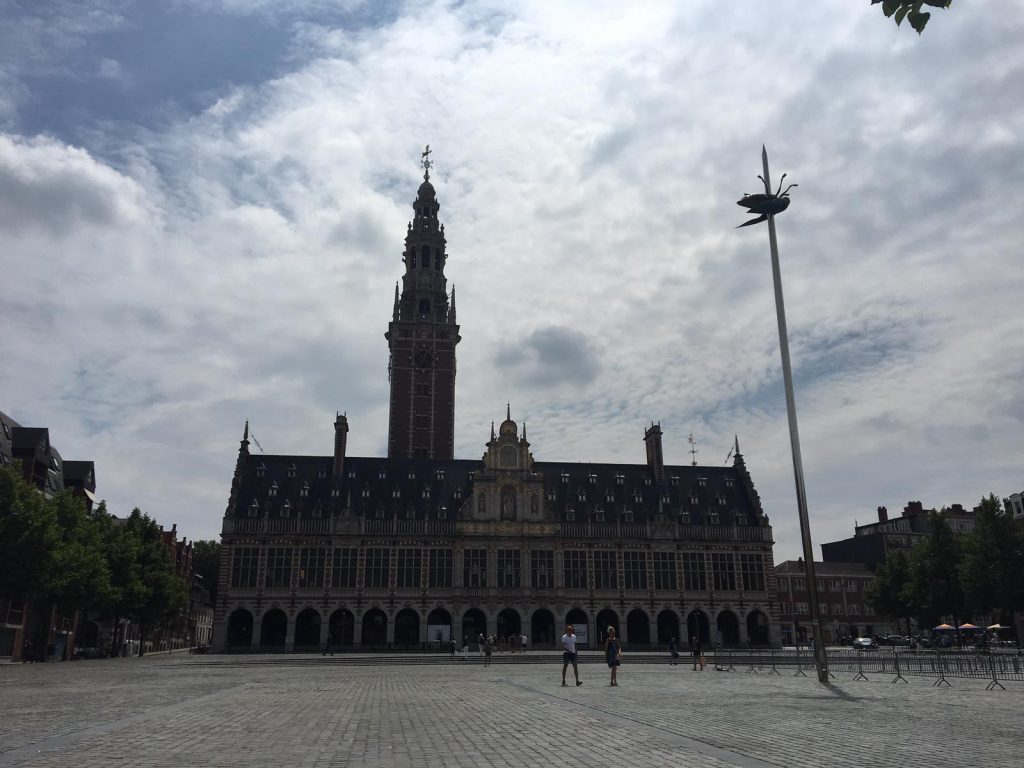 Fun fact: The University was divided during the early 70s, and the library books were split. Books with even numbers went to new UCL ( Université Catholique de Louvain ), while uneven call number were left in the original KU Leuven.